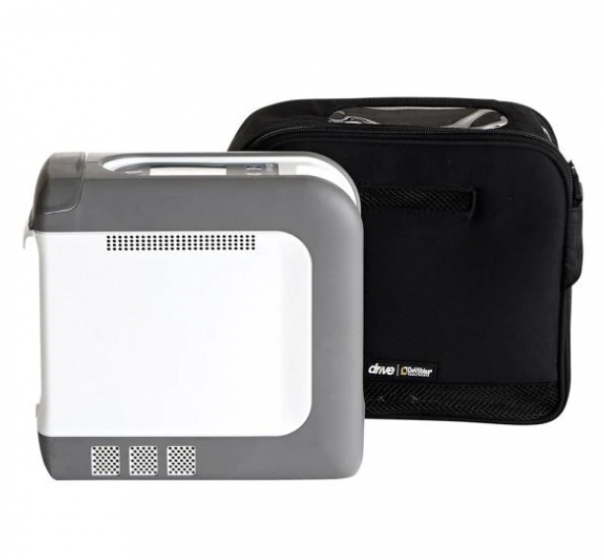 About DeVilbiss iGo2 Portable Oxygen Concentrator - A Closer Look
The Drive DeVilbiss Medical iGO2 Portable Oxygen Concentrator is a product for patients who need oxygen therapy with auto-adjusting features. The iGO2 POC's top feature is the SmartDose Technology. This technology can automatically adjust to the unique oxygen setting of each user. It will also detect a user's breathing rate to deliver the required amount of oxygen needed and keep the oxygen flow constant.
With this concentrator, the user will not have to worry about adjusting the oxygen level every time to improve user compliance and the effectiveness of the therapy. This is the perfect POC for those who live a busy lifestyle and want the flexibility and adaptability of a portable oxygen concentrator that adjusts to breathing needs on the go.
DeVilbiss iGo2 Portable Oxygen Concentrator -  Key Features
Travel-Friendly
This portable oxygen concentrator is compact and lightweight. It is ideal for travel, whether short trips or long. Weighing only 5 pounds, the POC fits snugly in a suitcase for long-distance travel. It can also conveniently fit in a carrying case for over-the-shoulder accessibility while running errands around town.
There is storage space to carry two extra batteries in the carrying case. This provides peace of mind on vacations or camping trips when power resources may not be available. The rubber casing for this POC is designed for on-the-go durability to protect the device.
Relatively Safer
The flexibility of the SmartDose Technology helps make this portable oxygen concentrator ideal for anyone who relies on oxygen therapy to be dynamic and responsive to changing breathing conditions. If your respiratory illness is dependent on immediate supplemental oxygen needs, then this POC could be a lifesaver.
This technology allows the portable oxygen concentrator to increase capacity as the breathing rate increases. It offers a safe and reliable alternative to standard pulse dose and continuous dose POCs which require individual adjustment. This POC is always monitoring your breathing to ensure you are where you need to be based on your oxygen therapy requirements.
Powerful Lithium Batteries
Reliable batteries are essential for any portable oxygen concentrator. That is why the DeVilbiss iGo2 comes with long-lasting lithium batteries which provide extended battery life for the POC. The endurance battery lasts up to 5 hours and 30 minutes. When the battery is low, the portable oxygen concentrator will give the user an audible warning. The battery will take 3 hours to be fully charged. It works with three types of power supplies: battery, AC, and DC. The device can be on a recreational vehicle, boat, or car. It will need to be recharged as needed even if away from a standard electrical outlet.
Reliable Oxygen Flow
For those who need dependable oxygen flow all the time, even while on the go, this portable oxygen concentrator ensures delivery with dynamic auto-adjusting technology. The SmartDose Technology automatically adjusts to the oxygen setting of the user. It will also detect the breathing rate of the user to deliver the required amount of oxygen needed and keep the oxygen flow constant. 1-5LPM pulse dose settings and continuous flow settings are also available for manual adjustment. Audible warnings announce when oxygen output is low or in pulse mode that no breath is detected so the user is always aware of oxygen flow.
DeVilbiss iGo2 Portable Oxygen Concentrator - Design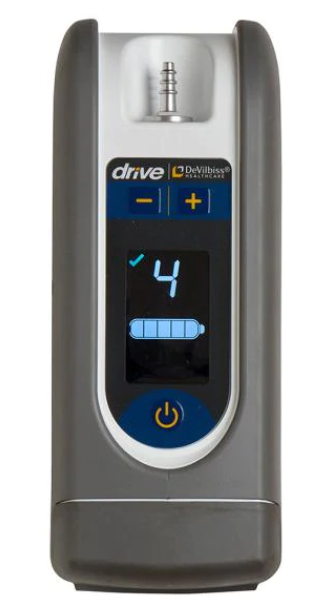 The streamlined design of the DeVilbiss iGo2 offers a compact and lightweight unit that users will find easy to tote anywhere. The rubber casing adds to the durability of the design so that this portable oxygen concentrator is ready to take the bumps of everyday travel without compromising the performance of the device.
The portable oxygen concentrator aligns perfectly with the carrying case for easy portability. It also includes storage space for two additional batteries to pack everything all together.
The slim design also makes it easy to use this portable oxygen concentrator as a home oxygen therapy unit. The space-saver shape and form fit easily into your home decor.
DeVilbiss iGo2 Portable Oxygen Concentrator - Usability 
The DeVilbiss iGo2 features a large LCD screen for easy readability to quickly see important information about the portable oxygen concentrator operation. This portable oxygen concentrator can be used with 50 ft. tubing/cannula in continuous flow mode and 35 ft. tubing/cannula in PulseDose mode, so you have options as your breathing needs change.  If the unit is operating on AC power and the power is interrupted, then the iGo2 will automatically switch to battery operation so you always have consistent performance.
Users who travel will enjoy the wheeled case for easier portability. Additionally, there are three handles molded into the body of the concentrator for efficient handling. There is also an easy-to-access filter compartment when it comes time for maintenance.  Users also rely on the smart alerts that will notify users of different operation statuses of the portable oxygen concentrator. These alerts can range from oxygen output and power problems to low battery and unit malfunction.
Is It FAA Approved?
This portable oxygen concentrator is FAA approved for all domestic and international flights for use in-flight by passengers. In general, commercial airlines do not provide medical oxygen. But, they do allow passengers to bring a battery-powered portable oxygen concentrator (POC) for use in flight. POCs that are approved by the Federal Aviation Association (FAA) are the only portable oxygen concentrators that are allowed for flights.
 The FAA requires approved POCs as there are dramatic changes in air pressure during flight, and airlines want to make sure that portable oxygen concentrators will be able to adapt.
Where Can I Buy DeVilbiss iGo2 Portable Oxygen Concentrator?
You can shop online for this particular machine at The Oxygen Concentrator Supplies Shop. Our knowledgeable staff can answer all your questions about this device. Give us a call today at 888-941-1688.
The author is not affiliated in any way with DeVilbiss, so the review of this product constitutes publicly-available information by DeVilbiss. Additionally, this post does not constitute medical advice in any way. It is recommended to discuss the specifics of any oxygen products with your doctor before ultimately purchasing a device to ensure you have the right equipment for your needs. This information is for educational purposes only.