The FDA recently approved Yupelri (revefenacin, Theravance BioPharma) for the maintenance treatment of chronic obstructive pulmonary disease (COPD). This drug is a long-acting muscarinic antagonist (LAMA). It is to be administered as an inhalation solution. Yupelri is a once-daily, nebulized bronchodilator. It is the first and only of its kind to be approved for treatment of COPD in the United States. To administer, patients should use a 175 mcg vial with a standard jet nebulizer.
The new approval gives patients with COPD a new option. In a clinical trial, 1000 patients with COPD showed positive results with revefenacin treatment. Results show general, positive toleration with no new safety issues.
Jet Nebulizers
Jet nebulizers use an air compression to generate enough air to go through a short tube and into a nebulizer cup. The cup holds the liquid medicine and convert the liquid into a mist for inhalation. These devices are generally bigger and louder. The medicine mist particles tend to vary in size. Jet nebulizers are available as both home or portable units.
We recommend: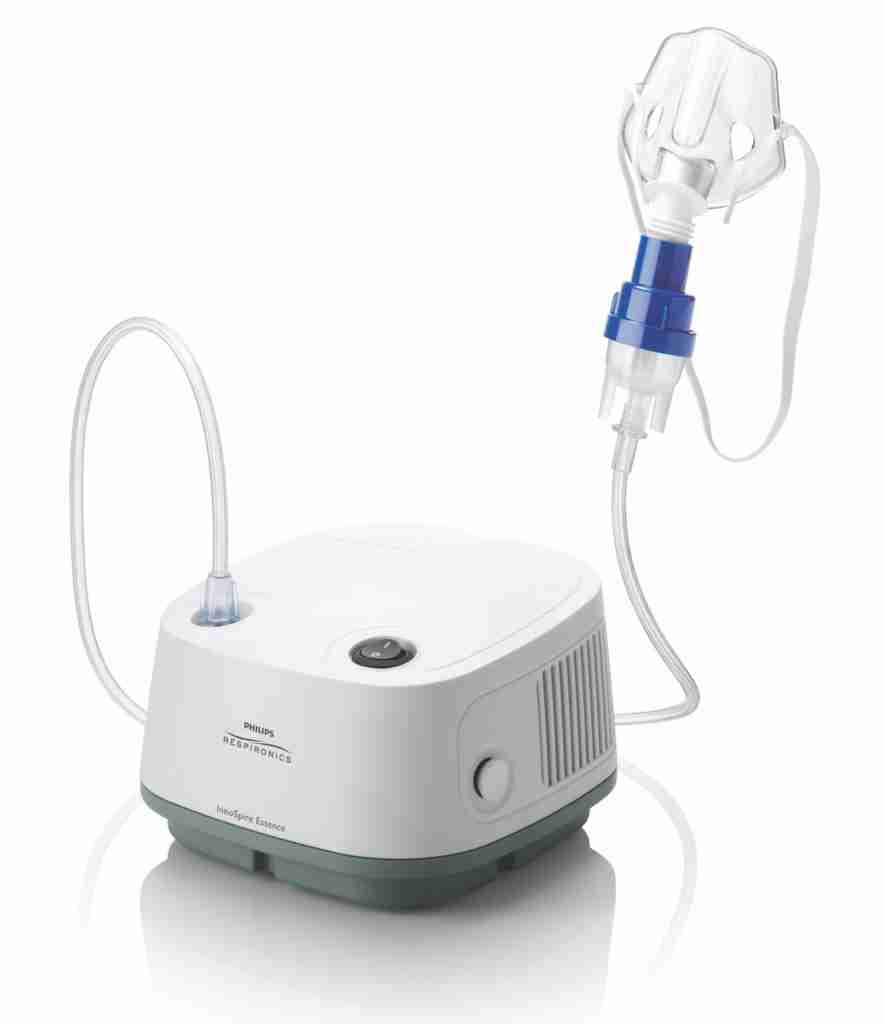 The Respironics InnoSpire Essence Compressor provides fast and efficient aerosol drug delivery. It is a lightweight, compact, and economical machine. It works efficiently with the SideStream reusable and disposable nebulizers, which feature an active venturi system and provide air flow in addition to that from the compressor. The machine weighs 3.3 lbs. An average treatment time is 6-8 minutes per single dose.
Inhaler vs Nebulizer for COPD
Inhaled medication can help treat COPD. Inhalers or nebulizers deliver medication into the lungs. Inhalers are small, handheld devices to give you medication on-the-go. There are three types of inhalers: metered-dose, dry powder, and soft mist. Each of these inhalers deliver medication in different ways. Moreover, they have their particular clean methods and have different ways of tracking when it's empty.
Nebulizers are less portable but can be used both at home or on-the-go. You connect to the machine and breathe in the medication. However, you must clean all the parts after use. They take about 20 minutes to complete a treatment.
A physician will help you decide whether to use an inhaler or a nebulizer. Most patients with COPD use inhalers for their daily routines. They like the portability and speed of delivery. However, a study recently reported that fewer than half of the people using inhalers use them properly.1 If you have trouble using an inhaler, a nebulizer might be a better choice. Nebulizers are also preferable when you are in the middle of a flare.
Respiratory Tips for Using Inhaled Medicine
Our on-staff respiratory therapist Jose Acosta, CRT, tells patients to first understand how to take your inhaled medication correctly. This includes how the device works and how the medication is delivered. If the directions are not followed, an accurate dose of medication may not be delivered.
In addition, it is important to learn about the medication being taken. Ask your physician how often to use the device and at what prescribed dose. Remember, each medication works differently. Some may relax muscles while others may curb swelling. Some are short-acting and others are long-acting. Knowing what to expect and how everything works will set you up for long-term success.
The Oxygen Concentrator Supplies Shop features a wide selection of portable and home nebulizers and the latest inhalers on the market. Our team is here to answer questions and help you pick the right equipment to match your needs. Give us a call at 888.941.1688 today!
Reference:
1. Boyd J. Inhaler study: How much medicine makes it to the lungs? Rice University. http://news.rice.edu/2017/02/28/inhaler-study-how-much-medicine-makes-it-to-lungs-2/. Accessed December 3, 2018.