Selecting the best portable oxygen concentrator for your oxygen therapy needs means reviewing key features and benefits to find that one that works best for you. Maintaining your oxygen therapy on the go works better when you have a POC that is lightweight and compact and that delivers many of the features of a home oxygen concentrator in a smaller size. We've compared two of the top portable oxygen concentrators currently on the market: the Inogen G5 and the Caire SeQual Eclipse 5.
Inogen One G5 Vs SeQual Eclipse 5 - Features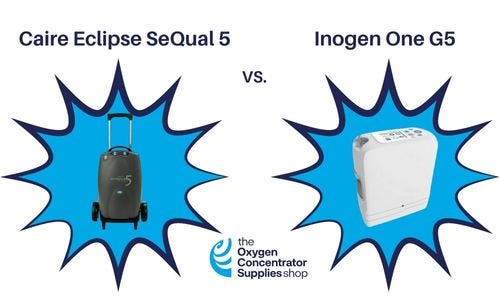 Design Comparison
The Inogen One G5 Portable Oxygen Concentrator is the newest member, recently added to the Inogen One family of products. The oxygen concentrator is designed for easy portability. The unit can also fit easily into carrying cases so it can be used while in transit, such as on airplanes or trains while remaining discreet.

The Caire Eclipse 5 Portable Concentrator is designed around its much larger size. IT comes with a handle and casters to help make the unit more portable while traveling.
Technology Comparison
The G5 provides users with a Breath Detection Alert Mode. This technology alerts users with both visual and audible signals when no breath is detected for more than 60 seconds. To turn this feature on or off, simply press the bell icon on the device's control panel. Since the G5 is a pulse dose concentrator, oxygen therapy can only be delivered when a user inhales.

The AutoSAT technology offered by SeQual Eclipse 5 monitors the breathing of the user and offers incremental therapy if inhalation is not identified. If the device does not sense an inspiratory effort when in pulse dose mode, a steady flow of oxygen would be administered while it tries to scan for a breath every 15 seconds. Additionally, AutoSAT technology adapts to the user's breath rate and increases or decreases oxygen production as needed.
Size and Weight Comparison
The Inogen One G5 oxygen concentrator uses a pulse dose of oxygen flow setting and weighs less than 5 pounds.

The Caire Eclipse 5 Portable Concentrator weighs 18.4 pounds with the battery installed, making it robust enough for home use. While it is one of the heavier portable oxygen concentrators on the market, the mobile cart that is included makes it very easy to move around and allows you to continue to be mobile while using oxygen. The cart features a telescoping handle that can be easily adjusted to whatever height you need.
Battery Life and Charging Comparison
The Inogen One G5 can be configured at checkout with a single or double battery. The single battery provides up to 6 hours of use at the lowest oxygen settings, while the double battery offers up to 13 hours of use at the lowest setting. View the battery duration chart below for a better understanding of the approximate battery life at each oxygen setting.

The Caire Eclipse 5 battery can be charged even while operating at all flow settings up to 2.0 LPM with DC power. At most, users are able to go approximately 5 hours between charges.
Noise Level Comparison
The Inogen G5 oxygen concentrator has a low operational noise level of 38dBA and a lifespan of about 5 years. Additionally, this oxygen concentrator lets you enjoy a restful sleep with the help of its low noise feature, which is also helpful to use the POC while traveling with others.

The operating volume for the Caire Eclipse 5 concentrator is approximately 48 dBA, which makes it slightly louder than a library. While the Inogen is much quieter, the Caire Eclipse still provides a low noise performance.
Comparison of Oxygen Flow Settings
The Inogen One G5 portable oxygen concentrator delivers six varied pulse dose oxygen flow settings. To make sure that the users experience oxygen therapy with comfort, this oxygen concentrator provides a stable dose of oxygen into the nasal passage.

The SeQual Eclipse 5 Portable Oxygen Concentrator is one of the few portable oxygen concentrators that offers both continuous flow and pulse dose oxygen settings. Continuous flow settings range from 0.5 to 3LPM (liters per minute) and can be adjusted in increments of 0.5LPM. Pulse dose settings are offered on a scale from 1- 9, with Setting 1 delivering 16mL of oxygen per pulse and Setting 9 delivering 192mL of oxygen per pulse.
SeQual Eclipse 5 Portable Oxygen Concentrator - Pros And Cons 
Pros
Up to 5.4 hours of battery
AutoSTAT technology detects changes in breathing
CPAP compatible for those using a CPAP machine
Automatically switches to continuous oxygen flow if breathing is not detected in pulse dose mode
Three varied pulse dose settings
Pulse dose volume ranges from 16ml to 192ml
Get 3 LPM continuous flow with prescription
Get DC and AC power supply cords that are durable and easy to carry
Includes retracting handle and casters for easy portability
Pros
Heavier unit than Inogen and other portable oxygen concentrators
Bulkier design
Has higher noise level than the Inogen 5
Inogen One G5 Portable Oxygen Concentrator - Pros And Cons 
Pros
Intelligent Delivery Technology including breath detection
Six pulse dose settings for flexible oxygen therapy needs
Up to 13 hours battery duration and has an external battery option for extended portable power
FAA approved for in-flight use
Lifespan of unit is about 5 years
Low noise for restful sleep or use in public
Backlit and bright displays with intuitive and large controls
Compact and lightweight design for easy portability
Includes carrying bag, AC and DC power adapters and 3 year warranty
Cons
Does not provide continuous flow option
Less technology features than other portable oxygen concentrators
Inogen One G5 Vs SeQual Eclipse 5 Portable Oxygen Concentrator - Price 
The Inogen One G5 is available for $2,295.00. The Inogen One delivers most of the necessary features users may need in a compact design and size in a portable oxygen concentrator for the price. The price is comparable with other POCs available on the market.

The SeQual Eclipse 5 is available for $3,550.00. While higher in price, the SeQual offers more features including the additional option of continuous flow as well as pulse flow setting options.
SeQual Eclipse 5 Five Or  Inogen One G5 -  Which Is The Better Portable Oxygen Concentrator?
The Inogen One G5 offers the best value in a portable oxygen concentrator. The design is small and lightweight and the typical 5 pulse dose settings are available. For most users this basic POC is the best choice.

Users who need more from their portable oxygen concentrator may prefer the SeQual Eclipse. While a heavier, more expensive machine, the Eclipse offers the flexibility of both continuous flow and pulse dose, along with more features and alerts that may be helpful for some users.
Where Can I Buy Inogen One G5 Portable Oxygen Concentrator?
Where Can I Buy SeQual Eclipse 5 Portable Oxygen Concentrator?
You can find the SeQual Eclipse 5 Portable Oxygen Concentrator at The Oxygen Concentrator Supplies Shop. We stock the SeQual Eclipse 5 for purchase at an affordable price, along with hundreds of other products. You can also speak to our expert staff to answer all your questions, get help with your prescription, and get your order delivered promptly. Give us a call at 888-941-1688 today!