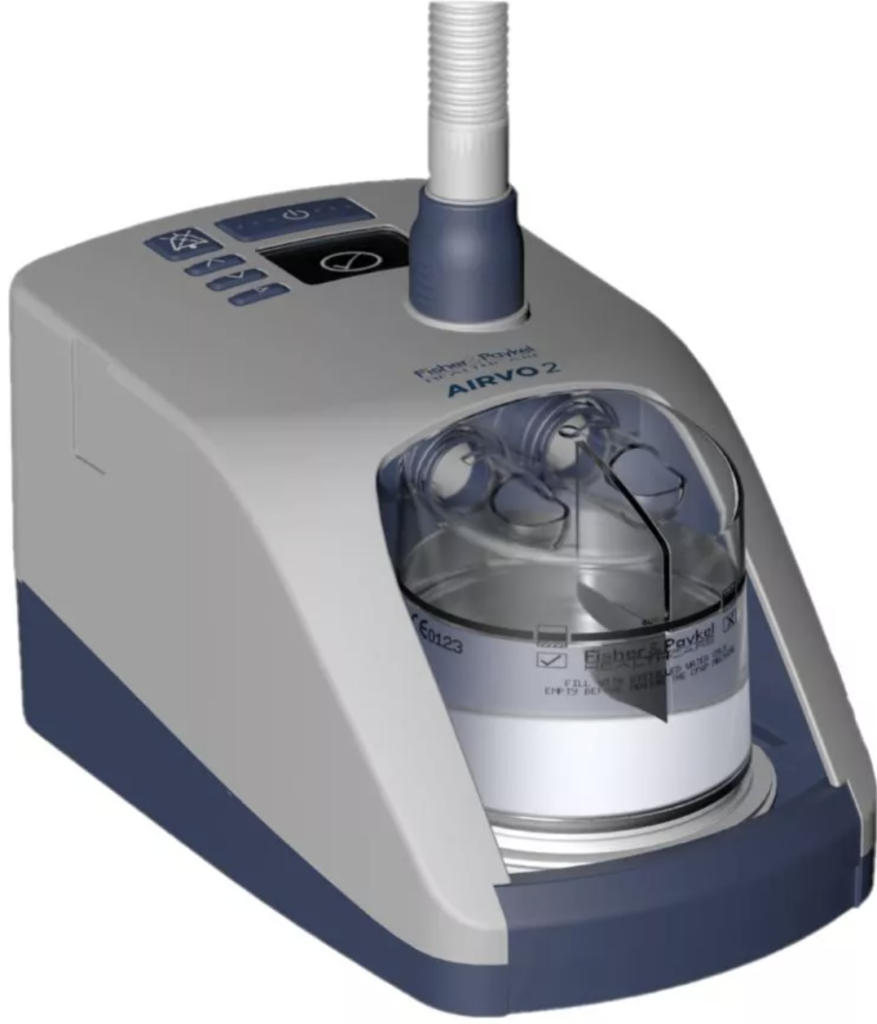 The Fisher & Paykel myAIRVO 2 has been designed specifically to be an integrated solution for delivering nasal high flow with Optiflow™. Fisher & Paykel Healthcare's leading humidification technology allows the myAIRVO 2 to comfortably provide high flows of air/oxygen mixtures to spontaneously breathing patients, through the unique Optiflow nasal cannula or tracheostomy interfaces.
What is Nasal High Flow (NHF) Therapy?
Nasal high flow therapy is used to treat spontaneously breathing patients and also patients who have had their airways bypassed. It is the treatment for a wide range of patient types, ages, and disease states. Depending on the patient's needs, NHF therapy can deliver up to 60 liters per minute (LPM). It can be useful for reducing rebreathing carbon dioxide and increasing mucociliary clearance. A visit to your doctor will then help determine whether or not nasal high flow therapy is an appropriate treatment for your needs.
What is Heated Humidified High-Flow Therapy (HHHF)?
HHHF is respiratory support that delivers a high flow of an air/oxygen blend to a patient through a cannula or tracheostomy interface. The air mixture is then heated and humidified to clear the upper airway and ease breathing.
There are a number of uses for HHHF. Spontaneously breathing patients with respiratory illnesses such as bronchitis and pneumonia, and patients experiencing severe asthma and COPD attacks all may benefit from HHHF. HHHF is also beneficial as respiratory support for those with pulmonary fibrosis.
Fisher & Paykel myAIRVO 2 Benefits
Adjustable Temperature and Flow Settings
The Fisher & Paykel myAIRVO 2 comes complete with three temperature settings (37, 34, 31°C) to help achieve comfort and compliance. To easily change these settings, go to the unit's simple control panel. An integrated flow generator delivers a wide flow range (2-60 LPM) for a wide range of patient needs. No wall air supply is necessary.
Consult with your physician prior to changing your flow setting.
AirSpiral™ Heated Breathing Tube
The AirSpiral heated tubing utilizes an advanced dual-spiral design to help eliminate up to 93 percent of tube condensation. This means fewer therapy interruptions and an overall more comfortable experience. AirSpiral is a 2-in-1 tube that connects to both the Optiflow™ and Optiflow Junior patient interfaces. No separate temperature probes or heater-wire adapters are necessary; simply click into place and you are ready to go!
The AirSpiral tubing also comes with a management clip to help minimize drag and further enhance therapy comfort. AirSpiral heated tubing should be replaced every 60 days.
Optiflow™ Nasal & Tracheostomy Interfaces
Evaqua™ technology reduces the formation of mobile condensate in the short tube of the interface. Secondly, soft, flexible prongs contoured to the patient's nose fit just inside the nostrils for direct airflow where needed. The wide-bore design helps to reduce gas jetting. For tracheostomy patients, a specially designed interface is available.
Both the Optiflow nasal cannula and the tracheostomy interface should be replaced every 30 days, while the Optiflow Junior interface should be replaced every 7 days.
Supplemental Oxygen
As previously mentioned, supplemental oxygen can be added from a wall supply or concentrator. Simply connect the oxygen tubing to the myAIRVO 2 oxygen port. The built-in, ultrasonic oxygen analyzer requires no calibration, service, or replacement. The unit does, however, come with an air filter that is replaceable every 90 days.
If connecting supplemental oxygen, make sure it is firmly in place, and never allow oxygen to flow through the unit when it is not on.
myAIRVO 2 Respiratory Support For Pulmonary Fibrosis and COVID-19 Patients
Pulmonary fibrosis is a lung disease that occurs when lung tissue is damaged and scarred, resulting in shortness of breath. This disease affects approximately 100,000 people in the United States. Between 30,000 and 40,000 new cases are diagnosed each year.
We know that individuals with respiratory illnesses are at a higher risk for infection. For those with impaired breathing due to pulmonary fibrosis, COVID-19 can escalate the severity of the illness. Therefore, the CDC recommends that anyone with pulmonary fibrosis should stay home, wash their hands frequently and sanitize household surfaces to help reduce the risk of infection.
Along with these best practices, you should also continue using any respiratory support for maintaining comfortable breathing. Respiratory therapies, including heated high-flow therapy (HHHF), help improve the quality of life and comfort for some patients.
How Does HHHF Help Pulmonary Fibrosis Patients?
HHHF improves lung function, easing difficult breathing for pulmonary fibrosis patients. The use of HHHF along with prescribed medications allows many pulmonary fibrosis patients to experience improved quality of life.
Additionally, clinical trials with HHHF showed that it cleared airways and improved airway hydration. Long-term, the therapy decreased the escalation of care, reduced mortality rates, and offered relief for pulmonary fibrosis symptoms.2
How Is HHHF Therapy Provided?
The Fisher & Paykel myAIRVO 2 humidifier and integrated flow generator provide HHHF. The myAIRVO 2 delivers up to 60 liters per minute of air/oxygen mixtures for pulmonary fibrosis patients. The system offers Optiflow nasal interfaces as well as direct-connect tracheostomy and mask interfaces to fit the needs of different patients.
Three temperature settings provide comfortable breathing in compliance with doctor recommendations. The Fisher & Paykel myAIRVO 2 can also be used with supplemental oxygen from an oxygen concentrator.
The staff at The Oxygen Concentrator Supplies Shop understands that having a respiratory condition is not only difficult but requires a lifestyle change. Therefore, our aim is to make the purchase of equipment, supplies, and accessories as easy and convenient as possible. For questions about the Fisher & Paykel myAIRVO 2, please contact our experts at The Oxygen Concentrator Supplies Shop. Call 888-941-1688 or email us at contact@oxygenconcentratorsupplies.com.
References:
US National Library of Medicine. Idiopathic Pulmonary Fibrosis. March 2020. Accessed March 2020.
Hyzy RC. Heated and humidified high-flow nasal oxygen in adults: Practical considerations and potential applications. UpToDate. 2020 Mar 6.