The Philips Respironics InnoSpire Essence Compressor Nebulizer offers an affordable approach for managing your aerosol medications. It is lightweight, economical, and compact. It also is paired with SideStream technology, which ensures consistent delivery with every dose. Experience deeper penetration of misted medication into the lungs with shorter treatment times.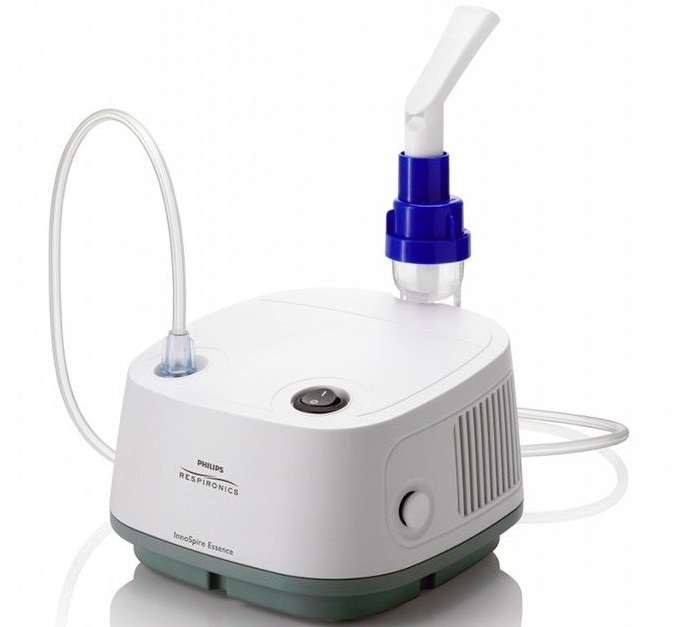 Key Features of the Philips Respironics InnoSpire Essence Compressor Nebulizer
A compact design makes this compressor nebulizer ideal for use away from home as well as managing treatments at home. Key features include:
Simple, easy-to-use operation
Short 5-7 minute treatment times
Reliable SideStream technology
5 year warranty
FAA approved for air travel
Active Venturi System
Benefits of the Philips Respironics InnoSpire Essence Compressor Nebulizer
The InnoSpire is highly compatible with nebulizers that feature an active Venturi System. That means the additional airflow combines with the air supplied by the compressor to provide faster drug delivery.
The InnoSpire also helps users by:
Offering a small, lightweight design that stores and packs easily
Providing a more affordable option compared to other high quality compressor nebulizers
Easy, hassle-free maintenance with fewer parts
Handset docking station offers easy therapy treatments
What Is Unique About Philips Respironics InnoSpire Essence Compressor Nebulizer?
SideStream Technology
This device compressor pairs with SideStream nebulizer technology to deliver fast, efficient medicine delivery to users. SideStream nebulizers use active venting in combination with the compressed air from the Essence's base to ensure medicine gets deeper into the lungs. With this improved medicine delivery system, treatment times are reduced to between 5 and 7 minutes.
Venturi System
The Venturi System of the Philips home nebulizer Improves the drug delivery time which results in faster treatment times as compared to conventional nebulizers.
Easy Maintenance
This home nebulizer uses fewer parts making it easy to clean and maintain. SideStream nebulizers are available in reusable and disposable models. The reusable models should be replaced approximately every 6 months, with regular cleaning and maintenance. Disposable SideStream nebulizers should be replaced every 2 weeks.
Compact Design
With its small, lightweight frame it is suitable for use at home as well as traveling with you and is small enough to store easily.
How The Philips Respironics InnoSpire Essence Compares to Its Competitor
Philips Respironics InnoSpire Essence Compressor Nebulizer – Maintenance
After each use:
Make sure the tubing isn't connected to a power source
Remove the top from the medicine cup by unscrewing it
Clean the nebulizer by rinsing it out thoroughly and then refill with clean water
Screw the top of the medicine cup back on and connect the compressor with the tubing
Run the device again for a few seconds to flush out any residual medicine
Then take the nebulizer apart and store until the next use
Philips Respironics InnoSpire Essence Compressor Nebulizer - Warranty
When you purchase this home nebulizer you receive the protection of a five-year warranty. The Philips Innospire Essence is covered for product defects or if you simply do not find the nebulizer effective for treatment.
Where Can I Buy the Philips Respironics InnoSpire Essence Compressor Nebulizer?
You can purchase the InnoSpire Essence at The Oxygen Concentrator Supplies Shop. Shop with us online to make your purchase quickly and easily. Our knowledgeable staff can answer all your questions about the InnoSpire Essence and help ensure you receive your nebulizer in a timely manner. Give us a call at 888-941-1688.