Philips Respironics InnoSpire Mini Nebulizer Review – Features, Benefits
The Philips Respironics InnoSpire Mini Nebulizer offers compact, lightweight, and portable performance for on-the-go peace of mind. Receive treatment in 6-8 minutes and anywhere you go, thanks to the rechargeable lithium-ion battery. This review will take a closer look at some of the key benefits of the InnoSpire Mini from Philips Respironics.
Benefits of Using InnoSpire Mini Nebulizer
The InnoSpire Mini Nebulizer lets you live and work freely, knowing you always have a fast dose of your essential medicine at hand. The InnoSpire Mini is compatible with the most common nebulizer medications and is suitable for both adults and children.
Philips Respironics InnoSpire Mini Compressor Nebulizer Performance
This mini nebulizer from Philips Respironics outperforms other similar devices using a faster delivery system driven by a piston pump compressor. The included SideStream nebulizer uses an active venting system, known as Venturi, that draws outside air into the medicine cup to help deliver the medication to the lungs.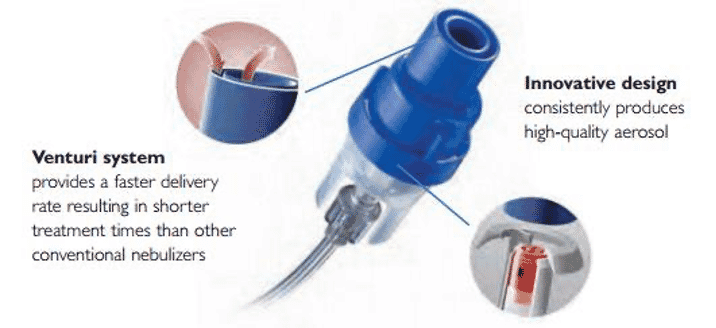 Battery Duration
The rechargeable lithium ion battery delivers 90 minutes of use. A full charge takes approximately 6 hours to complete and can be completed with either the AC power supply or the DC car adapter. It is important to note that the device cannot be used while the battery is charging.
How the Philips Respironics InnoSpire Mini Compares to other Nebulizers
We compared features of the Philips Respironics InnoSpire Mini among other top-selling nebulizers:
Philips Respironics InnoSpire Mini Compressor Nebulizer Design
The compact design makes the InnoSpire Mini easy to use at home or on the go. The small footprint fits easily on a nightstand or in your luggage while traveling.
Speed
Delivering doses of medicine in just 6-8 minutes, the InnoSpire Mini offers faster treatment times than the DeVilbiss Traveler Portable Compressor Nebulizer System and a number of other home nebulizers.
Noise Level
The Philips Respironics InnoSpire Mini has an operating volume of approximately 50 dBA. For comparison sake, that is about as loud as the hum of an electrical transformer 100 feet away.
Comfort
The SideStream nebulizer can either be used with the included mouthpiece or a mask. This option offers a layer of comfort to respiratory therapy and makes the InnoSpire Mini ideal for any patient.
Portability
InnoSpire Mini fits perfectly in the palm of your hand, making it extremely portable. It only weighs 1.5 pounds and can easily fit in an overnight bag or suitcase. The tubing and nebulizer can easily detach from the compressor for storage.
Ease of Cleaning
The Philips Respironics InnoSpire Mini comes with filters that need to be changed regularly. Replace them if they become wet, damaged, or discolored. SideStream nebulizers come in both reusable and disposable options. The disposable nebulizers can be discarded after 14 days, while the reusable nebs should be washed daily and disinfected weekly.
To clean the compressor, simply wipe it down with a damp cloth or sponge.
Where to Buy InnoSpire Mini Nebulizer
You can purchase the InnoSpire Mini online at The Oxygen Concentrator Supplies Shop.
What Accessories Are Included in InnoSpire Mini Nebulizer?
The InnoSpire comes with:
Compressor Nebulizer
Rechargeable Lithium Ion Battery
1 SideStream Plus Reusable Nebulizer
12V DC Car-Charging Cord
AC Power Supply
Carrying Case
Spare Filters
DVD User Manual
Editor's Review
The Philips Respironics InnoSpire Mini Nebulizer is comparable to similar models from other manufacturers. The battery life is longer than some of the more popular portable models, such as the Flyp, and the price is average.
While the treatment time for the InnoSpire Mini is slightly longer than other portable nebulizers, such as the Flyp and the InnoSpire Go, most units deliver treatments in approximately the same time span.
Combine a fast treatment time with long battery life, reasonable price, and portability and the Philips Respironics InnoSpire Mini is one of the most versatile nebulizers on the market.
This post is based on the author's sole review, being a trusted online retailer, we sell only top-rated nebulizers and other respiratory equipment. If you have used this product, we want to hear your reviews and comments. If you have any questions regarding this or other nebulizers, don't hesitate to contact our customer care team. We can be reached at 888-941-1688 or via email at contact@oxygenconcentratorsupplies.com.