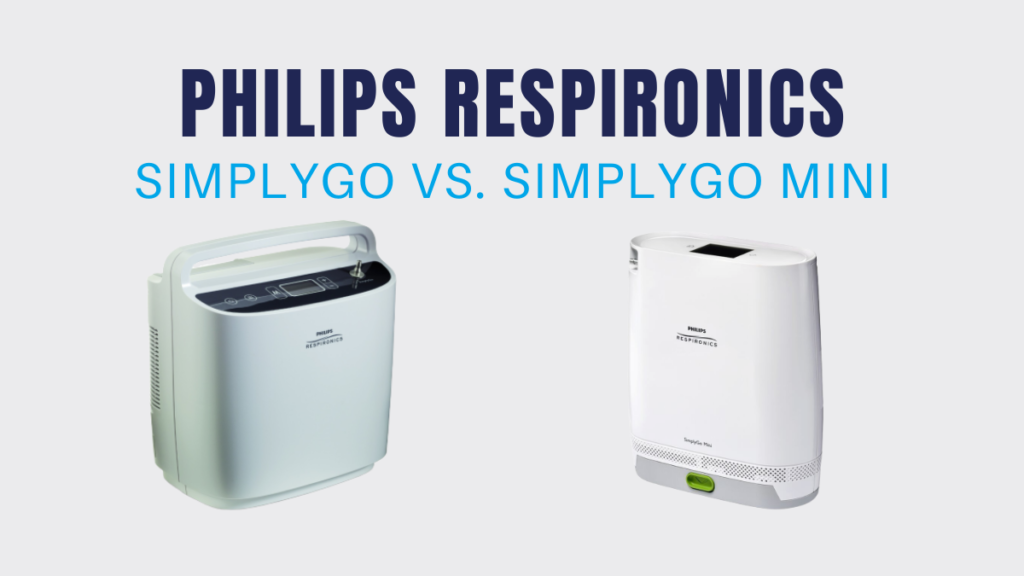 When it comes to high-performance portable oxygen concentrators, Philips Respironics is one of the leading manufacturers. The simple, yet rugged designs of the SimplyGo and SimplyGo Mini have been quality-tested to continuously deliver accurate oxygen therapy no matter what. But how do these two portable devices stack up? Which of these oxygen concentrators is right for you? Use the comparison guide below to determine which unit best suits your needs.
Flow Settings
The key difference between the Philips Respironics SimplyGo and the Philips Respironics SimplyGo Mini is the flow settings. Flow settings are the method of oxygen delivery and must be prescribed by a doctor.
The Respironics SimplyGo, weighing in at 10lbs, offers oxygen delivery in both continuous flow and pulse dose settings. Continuous flow oxygen provides the user with a steady, consistent flow of oxygen. Pulse dose only delivers oxygen in tiny bursts upon inhalation. SimplyGo delivers pulse dose oxygen across 6 settings and continuous flow oxygen up to 2 liters per minute.
The lighter Philips SimplyGo Mini, weighing up to 6lbs, only offers pulse dose oxygen delivery. These pulse doses are offered across 5 settings and should not be changed without first consulting your physician.
Battery Life of Oxygen Concentrator Machines
A portable oxygen concentrator relies primarily on battery power to deliver effective therapy to users. These lithium-ion batteries can usually be charged via AC or DC power and even while the device is in use. Battery replacement is often a quite simple and user-friendly process.
The larger SimplyGo concentrator has a single battery that can last up to 3.4 hours, based on oxygen settings. If your prescription requires higher flow settings, you may want to consider purchasing additional batteries. Especially when planning a long-distance trip.
SimplyGo Battery Life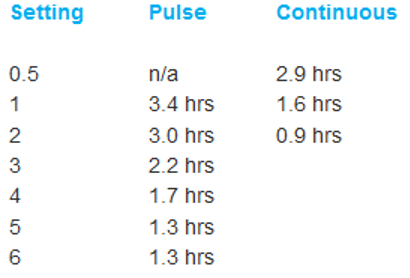 The Philips Respironics SimplyGo Mini, on the other hand, can be purchased with two battery configurations: a standard battery, or an extended battery. With the standard battery, SimplyGo Mini users can get up to 6 hours of battery life from their concentrator. Extended battery users can get up to 12 hours of battery life. These times again depend on the oxygen settings. SimplyGo Mini may be a preferred choice when planning a long road-trip or flight. Extra batteries should still be considered.
SimplyGo Mini Battery Life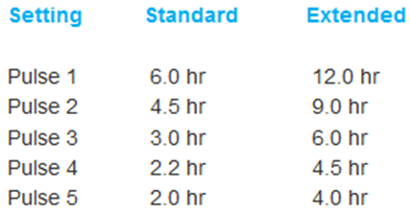 Weight and Size of Concentrator Machines
With only one battery, the dimensions of the Respironics SimplyGo don't change. The SimplyGo Mini dimensions, on the other hand, depend on the battery configuration.
Philips Respironics SimplyGo
Philips Respironics SimplyGo Mini
Dimensions
11.5" x 10" x 6"
9.4" x 8.3" x 3.6" with standard battery
10.2" x 8.3" x 2.6" with extended battery
Weight
10lbs
5lbs with standard battery
6lbs with extended battery
FAA-Approved
The Philips Respironics SimplyGo and the SimplyGo Mini are both FAA-approved for in-flight use during commercial flights. We highly encourage you to contact your airline prior to arrival at the airport to ensure you meet their specific requirements before traveling with your oxygen concentrator.
Side-by-Side Unit Comparison
The below chart takes a side-by-side look at each SimplyGo unit and compares key features of each.
Model
Respironics SimplyGo
Respironics SimplyGo Mini
Weight
10lbs
5-6lbs
Warranty
2 Years
3 Years
Battery Charging Time
2-3 Hours
4-8 Hours
Maximum Battery Life
3.4 Hours @ Pulse Setting 1
12 Hours @ Pulse Setting 1
Flow Settings
Pulse Settings 1-6
Continuous Flow 0.5-2.0 LPM
Pulse Settings 1-5
Noise Level
< 43 dBA @ Pulse Setting 2
<43 dBA @ Pulse Setting 2
The SimplyGo is heavier but offers both pulse and continuous flow settings. The SimplyGo Mini is lighter and offers a greater battery life but is limited to pulse settings only.
So Which Concentrator Is Best?
The Philips Respironics SimplyGo and SimplyGo Mini have their similarities and differences. Both machines have been rigorously tested to withstand any element or lifestyle. However, the concentrator you choose should be based off of your needs. The SimplyGo Mini may better suit a user who travels frequently or is more active outdoors. The Philips Respironics SimplyGo would most likely be better for local travel.
Have More Questions About These Concentrator Machines?
If you need more information about either of these portable oxygen concentrators from Philips Respironics please speak to our knowledgeable customer care team at the Oxygen Concentrator Supplies Shop. You can reach us by phone at 888-941-1688 or via email at contact@oxygenconcentratorsupplies.com.