Precision Medical EasyPulse Portable Oxygen Concentrator - PM4150
Starting at
$1,825.00
Regular Price
$2,200.00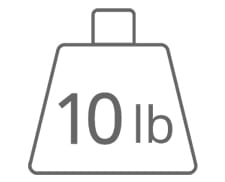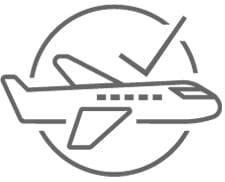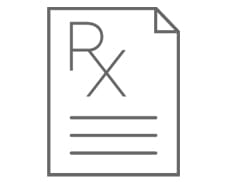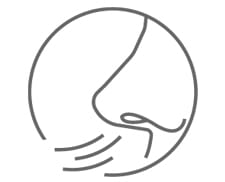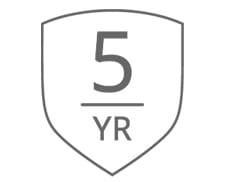 Lightweight: 6.6 pounds with Internal Battery

Up to 10 hours with External Battery

CMV technology automatically adjusts oxygen volume

Whisper-quiet operation
Precision Medical EasyPulse POC - Overview
The Precision Medical EasyPulse PM4150 makes it simple for oxygen patients to receive oxygen therapy. The battery can last up to 4.7 hours, allowing users to use it while traveling or on the go. This portable oxygen concentrator weighs 6.6 pounds, so it is highly portable. There is even a user-friendly control panel that helps patients monitor their battery life, oxygen settings, and more.
Precision Medical uses Vacuum Pressure Swing Adsorption (VPSA) technology to regenerate the sieve beds. Having clean sieve beds is beneficial to having a high oxygen purity level. Additionally, this POC includes Controlled Minute Volume (CMV), which is therapeutic oxygen delivered to patients in the first third of the inspiratory phase regardless of breath rate to offer maximum efficiency.
EasyPulse POC - Flow Settings
The Precision Medical PM4150 provides oxygen therapy in pulse doses. Pulse dose allows for oxygen to only be delivered during a user's inhalation. This extrends the battery life and the overall lifespan on the POC. The PM450 has five pulse dose settings and can deliver oxygen from 240780 mL/min. Pulse dose settings should only be changed if it is recommended by your healthcare provider.
To change the pulse setting, press the number button of the setting you need to change it to. An LED light will light up as a patient gets their oxygen delivered to them. To ensure best performance, it is not recommended to use longer oxygen tubing or a nasal cannula greater than 7 feet long.
Precision Medical EasyPulse POC - Battery Duration
The Precision Medical PM4150 can last for up 4.7 hours at a pulse dose setting of 1. If you combine that with the optional external battery pack, this POC can have a battery life of up to 9.4 hours.
Oxygen patients are able to monitor their battery life on the top-right corner of the display. When the POC gets to 15% charge, the LED battery indicator will turn red and the machine will beep once every minute. When the POC gets to 5% charge, the machine will beep every 20 seconds and the LED light will start blinking. The beeping will stop when the machine gets connected to an external power source.
The PM4150 concentrator comes with both AC and DC power cords. Both will charge the internal battery while the device is plugged in.
EasyPulse POC - Ease of Access
Precision Medical EasyPulse portable oxygen concentrator's control panel consists of only one button. The button is what turns the device on and off. There is also a rotating knob that is used to set the oxygen flow. These easy controls with LED light included make it simple for any user to operate and troubleshoot their device.
Precision Medical Oxygen Concentrator - Small Frame and Lightweight
The PM4150 weighs less than 7 pounds with the internal battery and is one of the lightest machines on the market. Its also small in size, with the dimensions being 10.1in x 6.5in x 4.5in.
Easypulse Oxygen Concentrator with CMV Technology
This machine includes Controlled Minute Volume (CMV) which Precision Medical's own patented oxygen conserving technology. It was designed to effectively deliver the same amount of oxygen during the first period of inhalation.
Precision Medical EasyPulse POC - Versatile
This device comes with a carry bag that makes it versatile and easy to transport. The PM4150 can be used inside or outside of the carry bag, but the carry bag was designed to protext the device from minor vibration and also reduces noise during therapy.
EasyPulse POC - Easy Maintenance
The PM4150 only has one filter, so the maintenance of replacing it is very simple.
EasyPulse POC Precision Medical EasyPulse - Features and Benefits
Lightweight design for easy portability

Long battery life

Includes Precision Medical's patented Controlled Minute Volume (CMV) technology

Quiet Performance

User-friendly control panel

FAA-approved
EasyPulse Portable Oxygen Concentrator (POC)- Box Includes
EasyPulse Portable Oxygen Concentrator

AC & DC Power Cords

Carrying Bag

User Manual

Pre-Installed Filter

5 Nasal Cannulas
Oxygen concentrators can only be returned within 7 days of the original ship date and with less than 10 hours of use. A 15% return processing fee will be taken from the original payment before a credit is issued. All returns must be authorized by a Customer Service Representative and require a Return Merchandise Authorization (RMA) form.
For more information, read our return policy.
Precision Medical EasyPulse Portable Oxygen Concentrator - FAQs
How to Ensure Safety And Troubleshoot the EasyPulse POC?
The PM4150 includes built-in alarms that will alert the user if something is not working. These alarms can detect the following issues:
No breath

High operating temperature
Fan malfunction
High breathe rate
Device failure
Each alarm is indicated by an audible beep and a yellow or red LED light. Refer to the user manual to indentify and troubleshoot an alarm.
Green LED:

Device is ready to use

Yellow LED:

Medium priority, the user should handle it immediately.

Red LED:

High priority, the user should handle it immediately.
How To Clean And Maintain Precision Medical EasyPulse POC?
The PM4150 does not require too much maintenance, which is one of the reasons it is preferred by many users.
To clean the exterior of the device, simply wipe it with a damp cloth and mild soap. Let is completely airdry before using again. Ensure the device is not plugged in to power while cleaning it.
The filter can be found in the back of the device. To clean it, pull the filter tab and remove it from the POC. Wash it with soap and water and let it dry completely before putting it back into place in the concentrator.
Wash nasal cannulas and oxygen tubing on a regular basis to avoid damage.
Precision Medical EasyPulse Portable Oxygen Concentrator - PM4150 Parts

Dimensions:

10.1" (H) x 6.5" (W) x 4.5" (D)

Product Weight:

6.6 lbs with internal battery only;    7.8 lbs with external battery


Warranty:

5 Years

NOTE: Warranty applies to concentrator. Accessory and parts warranties may vary. Please review manufacturer's documentation for full details.

Alarms/Alerts:

No breath detected, Breath rate high, Low battery, Unit hot, Battery hot, Fan malfunction, Failed electrical connection

Battery Charging Time:

4.0 hr (internal battery)    

Battery Duration:

 

FAA Approved:

Yes

Flow Settings:

Pulse Settings: 1-5 

Oxygen Output per Minute

Manufacturer/Brand:

Precision Medical


Noise Level:

40dBA at Setting 2

Operating Ranges, Intended for Use:

Temperature:  41°F to 104°F (5°C - 40°C)

Altitude:

Up to 14,000 Feet (Up to 4,267 meters)

Oxygen Concentration:

87% - 95%

Storage Ranges, Intended for Storage:

Temperature: -4°F to 140°F (-20°C to 60°C)

Electrical:

AC: 100 - 240 VAC (1.0 A @ 120 VAC)

DC: 11 - 16 VDC (5.0 A @ 12 VDC)

 In the Box:

EasyPulse Portable Oxygen Concentrator, Carrying Case with shoulder strap, AC/DC Adapters and User Manual

Condition/Type:

New
Precision Medical EasyPulse Portable Oxygen Concentrator - PM4150 - Customer Questions