Sunset Portable Mesh Nebulizer with Rechargeable Battery
Temporary price reduction
Special Price
$99.00
Regular Price
$129.99
Save 24%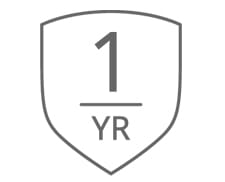 Best nebulizer for daily use
Weighs only 0.25 lbs and fits in the palm of the hand
Powerful and fast—maximum nebulization rate of 0.9ml per minute
Handheld Mesh Nebulizer with Rechargeable Battery Overview
The Sunset handheld mesh nebulizer by Sunset Healthcare Solutions is an exceptional nebulizer for patients who are suffering from chronic lung diseases, sinus infections, and infections that are moderate to severe that can affect the respiratory system. This portable nebulizer is the best device for daily use. It helps patients who need a reliable device that decreases build up in the lungs, chest, and nose, effectively.
The Sunset mesh nebulizer consists of an internal rechargeable battery with a 1-hour continuous application time while fully charged. The device weighs just ¼ pound and is so small that it will fit in the palm of the hand. This device is both convenient and powerful, which is almost impossible to find in a nebulizer. It has a maximum nebulization rate of 0.9 ml per minute. While traveling or away from home, the Sunset handheld nebulizer is the fastest machine for delivering medication.
Sunset Handheld Nebulizer - Releases Small particle sizes
To access and treat the respiratory system more thoroughly, the Sunset mesh nebulizer creates a fine mist of <5µm particles.
Sunset Mesh Nebulizer - Quick treatment
The Sunset handheld mesh nebulizer saves time by nebulizing at a quicker pace than conventional nebulizers.
Sunset Handheld Mesh Nebulizer - Lightweight and Discreet
The Sunset handheld nebulizer offers silent operation and only weighs 1/4 lb for increased mobility.
The device is warranted to be free from defects materials and workmanship appearing within 1 year from the date of purchase, when used in accordance with the instructions provided with the device.
In the Box
Medication cup
USB cord
Mask
Mouthpiece
Carry bag
Manual
Sunset Portable Mesh Nebulizer with Rechargeable Battery Parts
| | |
| --- | --- |
| Size of the particle | MMAD < 5µm |
| Nebulization Rate | 0.25ml/min-0.9ml/min |
| Medication Cup Capacity | 10ml (Max) |
| Weight | 1/4 lb (approx.) |
| Size | 1 1/2 x 2 x 3 7/8 inches (approx.) |
Sunset Portable Mesh Nebulizer with Rechargeable Battery - Customer Questions