Chad Oxymizer ® Disposable Oxygen Conserver Mustache
Prescription Required
May reduce need for humidifier
Provides more oxygen per breath

Oxymizer Conserving Devices are available as Mustache and Pendant Style Cannulas. They are simple, disposable and do not require batteries.
Oxymizer Conserving Devices are for those who require oxygen in continuous flow mode. The use of these products may allow you to maintain adequate oxygen saturations while using significantly lower oxygen flow rates than required by traditional nasal cannulas. They can be used with any device that provides continuous flow such as home and portable oxygen concentrators, oxygen tanks and liquid oxygen systems.
They function by temporarily holding oxygen in a small reservoir and as the reservoir fills up, the patient breathes in and gets a higher dose of oxygen per breath. The reservoir fills up as the patient breathes out, conserving the concentrated oxygen in the reservoir.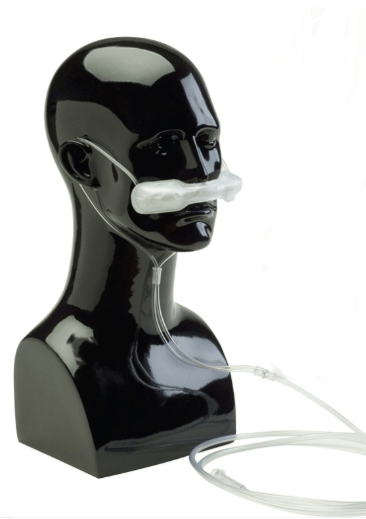 When drinking water from a fountain, a lot of water will spill out because it is a continuous flow of water.  The water we cannot drink is wasted. This is how a traditional nasal cannula functions.
Now, imagine having a cup of water that you fill up - you are still drinking water, but it is not wasted when you are unable to drink it because the cup will store it for you.
This is what a Oxymizer Conserving  Device can provide for you. 
The reduction in oxygen flow can help tanks and portable concentrator batteries last longer since the flow of oxygen can be reduced.
Because everyone reacts differently to the reduction in flow, patients should be titrated by their physician to determine the lower flow setting while using an Oxymizer since it is not the same flow required from a traditional nasal cannula. As the your oxygen setting (LPM) will differ from that of a standard cannula, Oxymizers are a Prescription Required item.

BENEFITS:
If used properly, these devices will provide you with the oxygen needed as well as these added benefits:
• It will take a lower flow rate to maintain adequate oxygen levels in your body, which can be as much as 75% less (depending on the flow rate) than a standard nasal cannula.
• If you use a portable oxygen concentrator, the battery will last longer due to the lower flow rate required. This means enjoying more time out of the house .
• Reduced dryness and nasal irritation for users that are used to high-flows and can sometimes eliminate the need for humidification all-together.
User Guide

Oxymizer User Manual
Chad Oxymizer ® Disposable Oxygen Conserver Mustache Parts
Chad Oxymizer ® Disposable Oxygen Conserver Mustache - Customer Questions