DeVilbiss Chad Oxymizer Pendant - Disposable Oxygen Conserver and Reservoir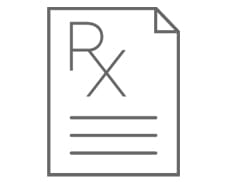 Oxygen reservoir provides more oxygen per breath
Requires continuous oxygen flow
Can increase battery life of portable concentrator
Prescription Required
DeVilbiss Oxymizer - Overview
The Oxymizer Pendant is a disposable oxygen reservoir that can be used for portable oxygen therapy. The device is simple, disposable, and does not require any battery or power to function.
The Oxymizer pendant is a conserving device that can provide a continuous flow of oxygen to maintain the adequate oxygen saturation in cases of significant lowering of oxygen levels in the body. The device can be used with all portable and home oxygen concentrators that can provide continuous flow of oxygen. Moreover, it is also compatible with oxygen tanks and liquid oxygen systems.
Chad Oxymizer Pendant - Features
Provide up to 15 LPM of continuous flow oxygen
Provides the delivery of continuous oxygen in all settings including home, travel, hospital and more.
Delivers oxygen in a 4:1 sharing ratio for an optimal oxygen delivery
Nasal cannula provides an effective alternative for masks allowing the user to eat, drink, or talk easily
Proven effective for oxygen therapy during rest, sleep, or exercise
Disposable and does not require any battery or power
Pendant model features the reservoir which is hidden underneath the clothing
Prescription Required
FAQs
What Are The Benefits Of Using Chad Oxymizer Pendant?
The reduction of the oxygen flow in oxygen concentrators allows a longer battery life.

If used properly, the lower rate of oxygen flow helps the maintenance of adequate oxygen levels in the body

The use of the oxidizer pendant reduces the dryness of the throat and nasal irritations which are common side-effects of high-flow oxygen.

The lower flow of oxygen eliminates the requirement for a humidifier during oxygen therapy

When using the Oxymizer Pendant, it is important to remember that all patients react differently to the reduction of oxygen flow. If you are planning on using an Oxymizer, it is best to

consult a physician and determine the lower settings of oxygen. This is also important as the flow settings for the Oxymizer pendant are not similar to that of traditional nasal cannulas.
Note: Oxymizer pendants are a prescription required item.
User Guide

Oxymizer User Manual
DeVilbiss Chad Oxymizer Pendant - Disposable Oxygen Conserver and Reservoir Parts