Roscoe Dinosaur Pediatric Nebulizer System
Special Price
$34.99
Regular Price
$49.99
Lightweight

Fast, efficient treatment times

Kid-Friendly Dinosaur Design

5-Year Manufacturer's Warranty

Roscoe Dinosaur Nebulizer for Kids by Roscoe Medical
The kid-friendly dinosaur design of this pediatric nebulizer helps ease anxiety during medical treatments. Weighing in at only 2.85 pounds, the Roscoe Dinosaur Nebulizer can easily be transported from room to room with a built-in carrying handle. The piston compressor is state-of-the-art and provides children with efficient delivery of medication in less than 10 minutes! Be sure to speak with your child's doctor to see if nebulizers are the best method of treatment for their respiratory condition. For children under 6 years old, it is recommended to use a face mask for maximum treatment benefits.
The package comes with the compressor, nebulizer, gloves, tubes, mouthpieces, five additional filters, and a 5-year guarantee.
Benefits of Roscoe Dinosaur Pediatric Nebulizer
This nebulizer has a child-friendly design to reduce a child's fear of therapy.
The nebulizer comes with everything you need for stress free pediatric therapy. The handbook is easy to consult and understand.
Provides quiet and smooth therapy in a relatively short amount of time.
How Does the Roscoe Dinosaur Pediatric Nebulizer System Work?
The Roscoe Dinosaur Nebulizer has a single-button design, making it easy for your child to take an active role in their respiratory therapy. Simply fill the medicine cup with the prescribed amount of medicine, attach either the mouthpiece or the pediatric face mask to one end and the nebulizer tubing to the other. Ensure that the tubing is also connected to the dinosaur base and press the On button.
If your child is using the mouthpiece, make sure they place it firmly between their teeth. If using the face mask, either hold it firmly over their nose and mouth or use the elastic band to secure it around their head. Tell them to breathe slowly to allow the medicine to fully penetrate their lungs.
When treatment is finished, the nebulizer will begin to make a sputtering sound. Turn the compressor off, disconnect the tubing and rinse all excess medicine out of the cup. Make sure nebulizer parts are air dry before storing or using again. Only use the nebulizer as prescribed by the doctor.
What's Included with the Roscoe Dinosaur Pediatric Nebulizer System?
The Dinosaur Pediatric Nebulizer from Roscoe Medical comes with nebulizer tubing, a medicine cup, two mouthpieces, a pediatric mask, and an additional five filters. This pediatric nebulizer also includes a five-year manufacturer warranty, protecting you from any faulty or defective parts. To file a warranty claim, contact our customer care team.
Dinosaur Pediatric Nebulizer Features
Kid-friendly design for comfortable therapy

Pediatric face mask and disposable nebulizer kit included

5-Year manufacturer's warranty

Quick treatment times - Less than 10 minutes!
In the Box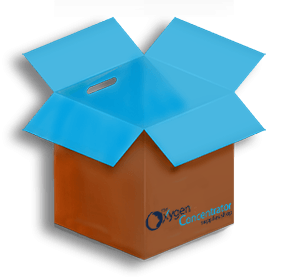 Dinosaur Compressor Nebulizer by Roscoe Medical
Disposable Nebulizer Kit
Child Sized Mask
Tubing & Angled mouthpiece
5 Extra Filters
User Manual
5 Year Warranty
Roscoe Dinosaur Pediatric Nebulizer System Parts
Frequently Asked Questions (FAQ's)