When oxygen therapy is essential for your everyday health, then it is important to prepare when emergencies arise. Know what to do and how to maintain your oxygen concentrator best under difficult circumstances so you never have to go without oxygen therapy when you may need it most.

Follow these important tips for maintaining your oxygen concentrator under emergency conditions. Use a checklist and keep support accessories available so you are never caught by surprise.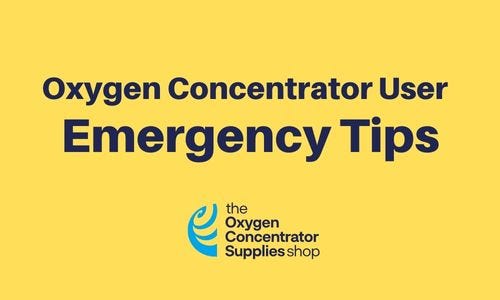 Consider Carrying Extra Batteries
If you use a portable oxygen concentrator and are traveling far from home, extra batteries come in handy for maintaining your power supply. Internal batteries for portable oxygen concentrators are designed to last a long time.

But under difficult circumstances such as a weather delay at the airport or heavy traffic during a road trip your main power source may drain fast. Be prepared with external batteries so you can continue your oxygen therapy worry-free.
Know Your Oxygen Concentrator Batteries
The best way to be prepared when traveling with your portable oxygen concentrator is to know the most you can about your power source. You know from experience how long your internal battery will last with your POC and if you feel you might run into a difficult situation, also know how many external batteries you may need to continue the power supply. Compare your power needs to how much oxygen supply you may need for your respiratory condition.
Consult Your Doctor
Also speak to your doctor about traveling with your respiratory condition and your portable oxygen concentrator. Let your doctor know when you may be traveling, especially if traveling abroad, so that your doctor is aware if an emergency arises that he or she can be contacted. Ask your doctor about your respiratory condition and how well you will fair under emergency conditions if you were not to have an adequate oxygen supply. This will help you better understand how well you can manage your condition without your POC.
Keep The Battery At Proper Temperature
Your portable oxygen concentrators are susceptible to environmental conditions. If you are traveling to a location that is exceptionally hot or cold, know that these temperatures may affect the performance of your batteries.

Be sure to consult your owner's manual about the ideal storage temperatures for your portable oxygen concentrator batteries so that they do not become damaged while traveling. Storing your batteries at the best temperature will ensure they remain operative when you need them most.
Be Prepared while Traveling. Know Where You are Going
Planning a trip can be exciting and taking your portable oxygen concentrator should not interfere in your fun. Take time to prepare for travel. Know your travel plans and be sure to let others know about your trip.

Consider taking additional supplies for your portable oxygen concentrator including nasal cannulas and hoses if needed. Take your owner's manual in case you need to troubleshoot while away from home. Preparedness for travel will give you peace of mind, even when unexpected circumstances arise.
Keep An Emergency Contact
If you plan on traveling alone, be sure to let others know about your trip and see if they will act as emergency contacts. They can be your source for help if emergencies arise while on your trip. Also contact your doctor and include that information as well on your emergency contact list for help with personal medical information. If you have to speak to other doctors or doctors in an emergency room, your personal doctor's input can be helpful.
Plan Accordingly 
Managing a respiratory illness while traveling means taking extra steps in planning. For example, if you are traveling abroad, make sure that electrical input devices will work with outlets in your destination country. You may need some additional accessories to recharge batteries or operate your portable oxygen concentrator.
If you are going on a road trip, check to see if you can charge your portable oxygen concentrator in car power sources. This will allow you to recharge without having to make a pitstop.
Key Takeaways 
Traveling with a respiratory illness shouldn't be a barrier, especially with the convenience of portable oxygen concentrators that are available. Understand your equipment well so you are not surprised by any technical issues. Be organized in your trip planning. Make a checklist of accessories you need including batteries and a list of emergency contacts. Take some time to plan your trip and prepare for possible unexpected outcomes to ensure that your journey is safe and peaceful.